Hey Google, connect to Nissan Connect App
We have all been there. Walking out of the store wandering around unable to find the car in a packed parking lot. Now imagine an app that could locate the car for you, helpful right?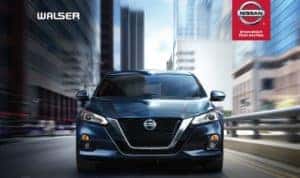 The new 2019 Nissan Rogue has solved that problem for drivers. Drivers can use the Nissan Connect App on their smartphone. Nissan Connect allows drivers to connect their smartphone and download the Nissan Connect app giving them an array of options. That includes the Parked Car Finder to help locate where you parked, as well as can track down your Nissan should it get stolen. The Nissan Connect App also allows drivers to access emergency preparedness features. The driver can receive emergency calls with a Nissan representative, and Automatic Collision Notifications if you are involved in an accident. If the airbags deploy, someone will reach out to help.
Other cool and more fun features this new Nissan has is the ability to connect to Alexa or Google Assistant to remotely start the car, lock or unlock the doors, even flash the lights and sound the horn. All that is required is setting up Bluetooth and ask Alexa or Google to connect to Nissan Connect. Once that's set up, your Nissan can be remotely started so you can warm it up, hop in, and be on your way!